Excursion
We are planning to have an excursion to encourage interactions among participants.
      Date: 19th October, 2011
      Time: from 12:30 - 18:00
      No charge (Included in registration fee)
      By delux a motor coach (Lunch box in a coach)

It takes about one hour from Tsukuba to Tokyo. We plan to return to Tsukuba at around 18:00, followed by a banquet.

Asakusa & Kokyo (Imperial Palace) tour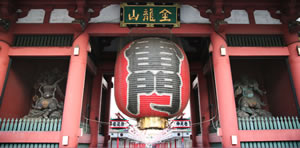 Asakusa is one of the most popular tourist destinations in Japan, and one of the few districts in Tokyo that still preserve the old culture of Edo. At the grand, main gate of Sensoji Temple, you can find a red gate which is named Kaminari-mon. The huge lantern hanging from the gate is quite imposing and is a popular meeting point for tourists and locals alike. Passing under Kaminari-mon we will find visitors entering the mouth of the Nakamise shopping arcade.Stretching around 250 meters straight ahead with branches off to the left and right, and lined with old-fashioned, crimson-colored merchant's shops it is an area forever abuzz with those in search of souvenirs.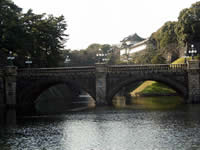 Kokyo (Imperial Palace) is the main residence of the Emperor of Japan. It is a large park-like area located in the Chiyoda area of Tokyo close to Tokyo Station and contains several buildings including the main palace (Kyūden), the private residences of the imperial family, an archive, museum and administrative offices. It is built on the site of the old Edo castle. The palace itself is closed to the public for all but two days a year: 2nd January (New Year's holiday) and 23rd December (the Emperor's birthday). But it is possible to wander around its outskirts and to visit the gardens, from where you can catch a glimpse of the palace's most famous landmark, the double-barrelled bridge (Nijū-bashi).